Grass Under Fire
Ottawa, ON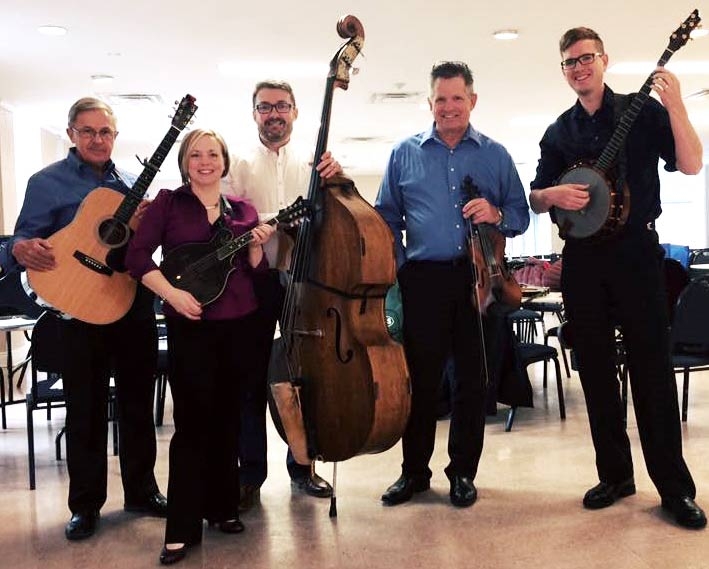 About Us
Grass Under Fire was formed by Dave Porter and Dan Buch in early 2012.
The band has had many personnel changes due to work and other commitments and the current configuration has been together for about 2 years.
The band plays an eclectic mix of traditional bluegrass, modern bluegrass and bluegrassed renditions of songs from artists like Johnny Cash, Bob Dylan and Dolly Parton. The band has performed about 50 times over its 6 year history in concert and festival venues in Eastern Ontario from Kingston to Maxville.
Primary lead vocalist Danielle Roberts originally from Winnipeg, who began her singing career in musical theatre, has 3 CD's to her credit, 2 with the Jamie and Jeff Plager and one with bluegrass band, Corduroy Road. Danielle, also a pianist, is the band's musical director.

Dan Buch, originally from the Barry's Bay area, has played with Corduroy Road and with the County Road 5 Bluegrass Band as well as Grass Under Fire.
He has one CD to his credit.

Dave Porter from Prescott, who joined Mike O'Reilly to form the first bluegrass band in the Ottawa area in 1969, has played an active role for many years as a bluegrass Board member in the Ottawa Valley Bluegrass Music Association, the Bluegrass Music Association of Canada and the South Grenville Bluegrass Festival.

Sgt. Anthony Bacon, born in Edmonton and perhaps the only Ontario bluegrass musician who makes a living playing music, is the only cellist in the Canadian Armed Forces Central Orchestra. A consummate musician, Tony plays at high level on all instruments in the violin/mandolin family as well as banjo and he is also a fine bluegrass singer.

James Leriche, the newest band member has been taking lessons from a professional teacher for over two years and has become a very competent bass man.
Grass Under Fire hopes to release a CD in 2018.
---
Contact Information
For bookings or information contact:
Dan Buch - 613-623-8160
Send Dan an Email
Dave Porter - 613-721-0535; Cell: 613-282-1149
SEnd Dave an Email
---
Band Members
| | |
| --- | --- |
| Dave Porter | Guitar & Vocals |
| Danielle Roberts | Mandolin & Vocals |
| James Leriche | Upright Bass & Vocals |
| Dan Buch | Mandolin, Fiddle, Octave Mandolin & Vocals |
| Sgt. Anthony Bacon | Banjo, Cello & Vocals |