Welcome to Bluegrass Canada where bluegrass music is alive, well and thriving!
We've set up this site so you can easily find bands, events, clubs, festivals and other information related to bluegrass music in Canada.
Current Magazine: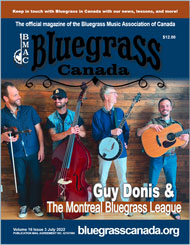 * Issue July 2022 *
To read the magazine, just click on or tap the image above.
(This is a free, unrestricted service for all who are interested in the Canadian Bluegrass commmunity.) If you like what you see, please take a moment to join our organization. You can even get your own copy of this great magazine mailed to you each quarter!
Login to BMAC!
---
Get your free BMAC Account!
With your free account yo can use all the tools on the BMAC site to ...
Include your band on our band directory with your upcoming events
Advertise your Bluegrass Festival
Let people know about upcoming bluegrass events in your area
Get your Bluegrass club information and location out there
Advertise open jams near you
Let people know about your lessons and webinars
Publicize shows and concerts
BMAC Band Directory
Add your band to our directory!
Here's one of the bands in the directory.
BMAC News
Festivals & Shows
BMAC Festival & Show Listing

Include your event in the BMAC festival directory for free!
Get started by loging in or creating a BMAC account.
Coming soon from BMAC
We are building our links to clubs, jams, camps, radio, social media and music instruction right now.
Say tuned to bluegrasscanada.org for more coming soon.
BMAC Website News
We are upgrading our website to provide you, the fans, musicians, promoters and sponsors with a complete resource to all things related to bluegrass music in Canada.
Come back often to discover more exciting changes as we continue our work. We welcome your comments and suggestions.
Thank you for your interest and stay tuned!